News — 1000 piece puzzles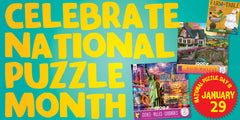 We have some very exciting news to share: January 29th is National Puzzle Day! And while it's (sadly) not recognized as an official holiday, there's still plenty of cheer to go around. If you haven't already set aside some time to celebrate, here are four ideas for you and your...
---
Many people enjoy the feeling of jumping into a lower-count puzzle, solving problems and connecting pieces as they go. However, using this same method on a higher-count puzzle will only bring frustration. We enjoy challenges, not seemingly-impossible tasks. 1,000 piece puzzles represent a wall that piece-by-piece instinct cannot scale. Rather...
---
The latest on Facebook
[powr-social-feed id=4d34fe1a_1505851177]