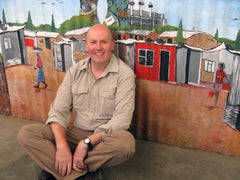 view more puzzles by
Howard Robinson
Howard Robinson
Born in the north east of England in 1959 Howard graduated with a BA with honours in 1980 and returned to his native county of Durham mainly to enjoy the open countryside with his two children.
Howard enjoys all forms of wildlife, although his main interest is in birds. He has studied and bred many rare species and in 2008 was invited to Brisbane as guest speaker at the International Finch Convention, an honour which he will repeat in 2014.
Howard's bright and colourful images of the natural world can be found on 100's of products worldwide. Described as the artistic master of adorable animals, both wild and tame that brim with personality, the kind that makes a person smile.
---